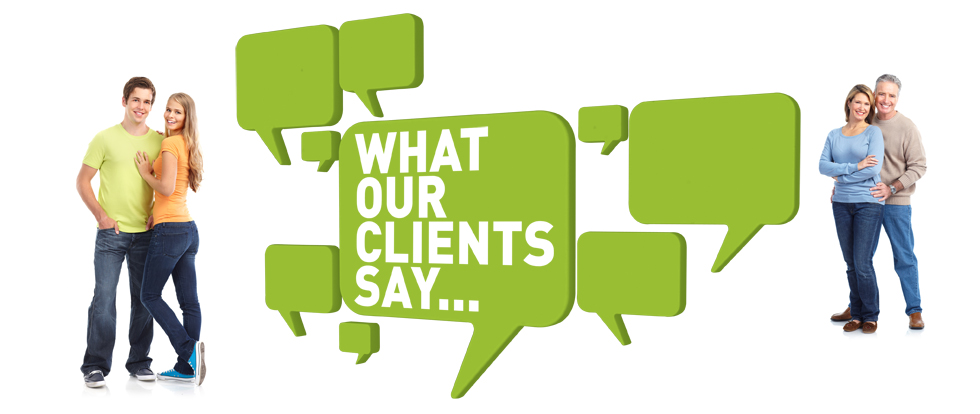 Testimonials from Maggie's past customers.

From Tony R. (Seller and Buyer)
"Maggie Li is an excellent Realtor hands down. She's on it like no other. Very thorough with documents and is on top of it when it comes down to details. She helped us sell our house and buy a new one. We can't thank her enough for putting up with all the things we went through during the buying and selling process. I would recommend her to friends and family any day. I highly recommend her if you're looking to buy or sell a home. I already miss working with her.... Thanks again, Maggie! I'm glad we met you that day when we were just looking around for a place."

From Fang (Investor Seller and Buyer)

"I got known Maggie really by accident. But I feel so lucky that I got to know her and later on I was able to enjoy her quality service when she sold my townhouse rental and bought me a condo rental. I ran into Maggie during an open house that she was hosting and even with just a brief conversation I was impressed with her thoroughness, her down to the earth attitude and her caring attitude as a person. I was also impressed with her remembering me more than 6 months later after the open house. Both transactions had ups and downs, but Maggie was able provide a lot of good advice and guidance and helped us go through them successfully. I'd have no doubt of recommending Maggie to everyone I know. "

From Janet (Out of Area Seller)

"I recommend Maggie Li without reservation. She is amazing. Whether you are a buyer or seller, she will work to accomplish whatever you need. She will keep you informed of progress and recommend effective courses of action. In short she removes the stress from real estate transactions. Maggie Li is the best!!"

From Paula (Seller)
"Maggie is the BEST realtor! Knowledgeable, responsive & gracious. She expertly oversaw all elements of the listing and negotiated a quick sale of nearly 30% over asking price."
From Laura (Seller)

"Maggie is one of the best realtors I have ever worked with. I have bought and sold over 15 houses across the country, and she was the most thorough and knowledgeable about the market than anyone I know. Ever recommendation Maggie made increased the value of our property and her commitment and attention to detail is second to none. We received top dollar and sold our home with multiple offers. I couldn't be more pleased! I would recommend Maggie to anyone looking to sell a house and if I was in the market to buy, she'd also be the first person I'd turn to."
From Shirley (Seller)
"I have been shopping for a realtor to sell my house for a few years until I met Maggie at her open house. She is smart and intelligent. She has done everything right. She works extremely hard. She negotiated the price for me. I am very happy and have no complaint."

From Sara C. (Seller)
"When I first started working with Maggie, I thought she was knowledgeable, bright, personable, and tech savvy, and I was right! She is also thorough! Maggie does her homework, e.g. about the unique aspects of our co-op's special considerations, advantages and disadvantages. I have been spreading the word about her in our community! No complaints at all!"

From Ryan and Nicole (Seller)
"When I first started working with Maggie, I thought she was a strong real estate agent with an aggressive approach to list our home (a good thing)! Same thoughts now! She understands that we live in Silicon Valley and how important it is to explore all avenues, especially internet, for marketing our home. She really worked hard for us and used many different methods. And, she found us buyers quickly. "

From Robert (Seller)

"I found you reserved and professional (in our first meeting). You listened well, responded clearly and to the point. I enjoyed working with you and felt quickly that I could trust you. You didn't let me down. My impression is that you are a person of high intelligence and dedication. I would absolutely refer you to friends and families."


From Priya Iyea (Seller)

"Once I started working with Maggie, she is nothing but a sweet heart. She is very organized, no-stress and very friendly. She is very understanding and has lots of patience. She understands that it's her clients' money and property and she answers as many questions as possible. She is a good realtor and a good person at heart. My business with her is almost perfect. I am glad that I could vouch for you!"
From Joe (Investor Seller)

"Maggie recently helped me to sell my investment condo. She took over the project from the beginning to the end. She helped me to narrow down the to-do list to get it ready. She determined the color theme, picked the paint color, helped me pick out the remodeling materials (floor, kitchen cabinets, bathroom vanity, light fixture, etc..). She hooked me up with her contractor. The remodeling was very smooth and the contractor finished on time with a very reasonable price. Her stager did a great job to stage the property. We have received many compliments from the neighbors. Everyone was impressed with the work. Maggie got me multiple offers and helped to pick the most qualified one. The whole process went very well. I would not hesitate to recommend Maggie to family and friends. "
From Sean R (Seller)

"Maggie is very knowledgeable and has lots of experience on how to make a sale. She works hard. She is very helpful. She advised us to spend a little money to make improvements on our place, which turned into a quick sale. I would definitely recommend her to friends and family. "

From Arnie H. (Buyer)

"Maggie is bright, knowledgeable, energetic, and eager to help. She took a personal interest in our needs. Maggie had strong opinions and was willing to express them. Many realtors want to follow the clients' reactions. Maggie helped us decide what to do. Maggie works hard, knows the markets, and is able to understand the process from the client's perspective. She listens carefully and saves the client time."

From Amit M. (Buyer)
"Very methodical and knowledgeable about the Sunnyvale neighborhoods. Willing to work with the clients' unique needs and aggressive follow through during the whole escrow process. Has good contacts and networks in the real estate, financial mortgage industry as well as building contractors. These qualities are still consistent and even more apparent now after working through you. Good contacts in the industry and continuing to follow up even after close of escrow to ensure customer satisfaction."

From TSZ and Ying Z (buyer)
"When we first met Maggie at her open house, we felt that she is easy-going and friendly. Maggie is different from many other realtors because of her fast response, patience and not being pushy. She is very responsive, knowledgeable, patient, and considerate for her clients. She never pushes us, but she moves fast. She is good at estimating the fair value of the properties that we are considering to make an offer and supports her estimate with data. She negotiated with the listing agent on our behalf. We would not hesitate to spread the word about her. "

From Jian L and Yun T (Buyer)

"When we first met Maggie, we were impressed with how informative and friendly she is. We feel we can trust Maggie. She provides a lot of information and good suggestions during our house hunting. It has worked out really well. We have no complaint at all."

From C. Li (Buyer)

"Maggie knows the market well and was able to provide us accurate market information to allow us to set a good buying price. She is an excellent liaison between the seller and the buyer. She is very experienced with the useful information buried among the mountainous amount of documents. She helped us to utilize our insurance to cover for the plumbing problems after we moved in. All in all, Maggie is smart, experienced and reliable."

From Q&G (Buyer)
"You seemed nice when we first met at your open house. Same impression today; very informed and helpful. We have not worked with many other realtors in the past, but what stood out for us was your tenacity and willingness to take as much as needed to make sure we were informed about the market and our options. In our referral, we will likely highlight the depth of your knowledge about the Bay Area and that you aggressively support your client. Your communication was excellent. You kept us in the loop and were always available. You were also seemingly up to date with market swings. "

From A&K (Buyer)
"Maggie is very helpful in the first meeting. However, we made it clear that we wouldn't buy property until in late future, that did not stop her from helping us through the process. She is great and experienced and apart from helping in buying process, gave good suggestions about remodeling and other stuff too. She is willing to accommodate appointments in odd hours. We are happy to recommend her. "
From Gang and Jia (Buyer)
"When we first met Maggie, we felt she is very informative and just like a friend. We feel we can trust her. Maggie has provided a lot of information and good suggestions during our home hunting. "